It's been a wild ride lately in the cryptocurrency market this week, as the algorithmic stablecoin TerraUSD has collapsed and fear rapidly extended to the broader market. While this event is having terrible financial consequences for the investors, it's interesting to observe the dynamics of this crash, as like any other bubble it reveals the basics of the human behavior.
Foremost, what's a stablecoin? In its simplest form, stablecoins are cryptocurrencies that maintain their value stable relative to another currency like the dollar or the euro. One might argue that it is not that useful to have a digital version of the dollar, the euro or the yen, when you can access actual dollars, euros and yens. And that's partially true. However, stablecoins exist for two very specific reasons: avoiding bank transfers, cut down fees and privacy. Indeed, the most common usage of stablecoins is to avoid a process known as KYC ("Know your customer"), that consist of submitting photo ID, documents and other information to open and use a financial account – be it bank, broker or anything else. Another important reason to use stablecoins is to avoid regulations and taxes. For example, FACTA makes it extremely difficult for Americans to open bank accounts abroad at all, as it's so expensive for foreign financial institutions to deal with American tax reporting requirements that they would rather just not deal with these clients at all. Once funds are transferred from the traditional financial system to the crypto market, all these regulations are not applied anymore.
There are three kinds of stablecoins: those that are off-chain collateralized, those that are on-chain collateralized, and the non-collateralized or algorithmic ones.
The first category use traditional reserve assets to stabilize their value, and the most important example is Tether, which is allegedly backed by reserves consisting of dollars, gold and commercial paper. However, it's worth noting that Tether declined multiple times to have their reserves officially audited, creating doubts about the truthfulness of their affirmations. Bloomberg wrote an interesting report about this topic last year, you can find it here. Tether has a market value of roughly $84 billion, and it's one of the most traded cryptocurrencies. If, as many analysts believe, Tether reserves are way less material than what they officially say about, that cryptocurrency might pose one of the biggest systemic risks for the crypto market. Indeed, it's been years since analysts pointed to the systemic risk posed in the crypto-space by stablecoins, which create leverage and liquidity without putting real money in the system.
The on-chain collateralized projects are, instead, backed by other crypto assets. This occurs on-chain and uses smart contracts instead of relying on a central issuer. These projects are often overcollateralized, with the excess collateral being used to maintain stability within the system.
Then, purely algorithm stablecoins use neither traditional assets nor crypto assets to maintain their stability, but rather algorithms and smart contracts that manage the supply of tokens in circulation with a goal of pegging them to the value of a traditional (fiat) currency like the dollar. TerraUSD, which is an algorithmic stablecoin and it's traded under the ticker of "UST", uses a complex combination of code, trader incentives, smart contracts and no small amount of faith to maintain its peg of one-to-one to the dollar. More importantly, it does so by working with a crypto token in the same ecosystem, called Luna, which can be swapped for UST (and vice versa): this way, arbitrage opportunities will keep the price of UST where it should be. If you want to learn more about how the TerraUSD algorithm works, we'd suggest you to read their whitepaper here.
However, the entire concept of TerraUSD relies on the belief that it would never move from its peg for long, because as its value falls, you can issue more and more of them until you have issued enough to keep the peg to the dollar. The idea behind it is that no matter how low the price, there will always be buyers for the newly issued Lunas. Sadly, if this idea worked, companies like Lehman Brothers would never have gone bust, as they could have just issued more shares to pay off debt holders.
The relationship between TerraUSD and Luna is similar to the fixed value convertible bonds. These bonds are usually issued by companies that need money and have no other way of raising them, and it always ends up in the same way: a death spiral. With regular convertible bonds, the holder can convert the security into a certain amount of shares, while with fixed value convertible bonds the holder can convert the security into a fixed amount worth of stocks, no matter what's the price of the stock. In these cases, bonds are hedged by shorting the stock, which pushes down the stock price, meaning that the bondholder is guaranteed more stock upon conversion, meaning that he can sell even more stock short, and the cycle continues on until the stock reaches zero.
Last Monday, all the mechanisms that were supposed to keep UST stable were not enough, and the token rapidly crashed. It fell to a low of 60 cents on that day alone, and reached a further low of around 20 cents over the next days, bringing its market value down from $18.4 billion to just $5 billion. It's worth noting that last year TerraUSD had lost its peg to the dollar, although in a less noticeable way than this week's, and had rapidly recovered to par.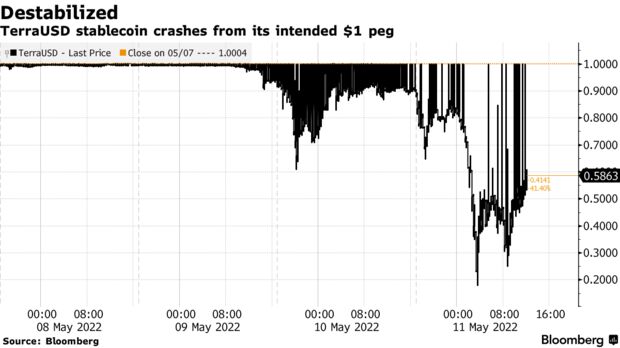 Furthermore, it's yet unknown what made Terra's carefully planned mechanisms fail to do their job, and many interesting conspiracy theories are already spreading on the Internet. On the other hand, a panic wouldn't be a panic without blaming short sellers and hedge fund managers. However, what happened to TerraUSD is concerning if we consider the risk of contagion. It's clear that many players have come up with the same concerns, as the more than $270 billion were knocked off the crypto market. Tether briefly dropped to the lowest level since December 2020, falling to 94.55 cents from its intended 1-to-1 peg to the dollar on Thursday, before recovering to just above 99 cents after a tweet from Paolo Ardoino, Tether's Chief Technology Officer, saying investors could still redeem its tokens for dollars at a one-to-one value.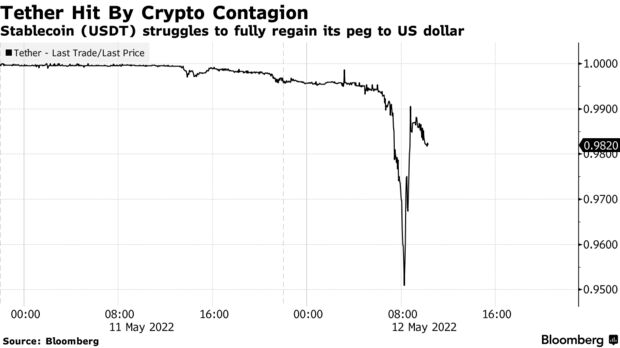 With a total market capitalization of roughly $84 billion, Tether is an essential cog to the array of crypto trades being actioned across the market at any given time. It is the most traded cryptocurrency by far, charting more than double the volume of second-place Bitcoin over the last 24 hours at $178 billion.
Even though Tether operates differently to TerraUSD, its decline highlights the overall risk-off mood that's sweeping through crypto markets. The fact that the depegging of TerraUSD is spreading also to backed stablecoins like Tether, could be of concern to financial regulators, as it starts to impact the traditional financial world if they have to sell money market instruments that they claim to own.