Upstart Holdings, Inc. operates a cloud- based artificial intelligence (AI) lending platform in the United States. The company's platform aggregates consumer demand for loans and connects it to its network of the company's AI- enabled bank partners. Its platform connects consumers, banks, and institutional investors through a shared AI lending platform. Upstart Holdings, Inc. was founded in 2012 and is headquartered in San Mateo, California. The company is publicly listed on NASDAQ under the ticker "UPST".
Our considerations
Upstart is a financial lending company that uses Artificial Intelligence to provide value both to consumer and to banks. Indeed, on one hand consumers are able to get higher approval rates, lower APRs, more inclusiveness of all demographics and lower loan payments for consumers over a full credit cycle. On the other hand, banks can enjoy more profitable lending programs, more automated loans and lower defaults. Also, Upstart allows banks to come closer to meeting government goals for financial inclusion.
As of 2021, approximately 70% of Upstart credit decisions are fully automated and instantaneous, giving the company a significant competitive advantage over traditional financial institutions, which have to rely on complex, time-consuming and sometimes opaque loan approval processes.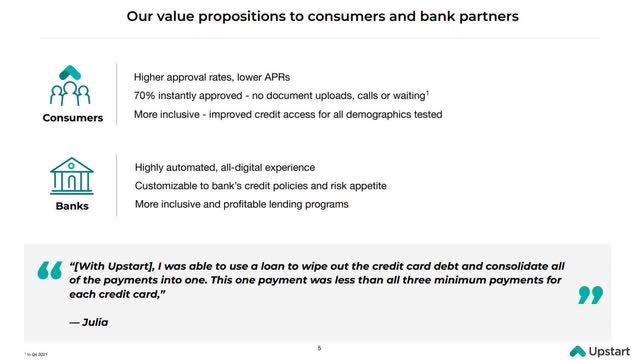 During the second half of 2021, Upstart shares declined significantly in value amid general fintech-related market fears, such as the state of the economy and the possible rise in default rates, decreasing its valuation to more valid levels. Indeed, while the company is experiencing an astronomical revenue growth, with a disruptive business model and in a growing market, trading at a P/E ratio of 130 was unjustified anyways. However, the company is expecting three-digits revenue growth for the first quarter of 2022, and it is probably the only company able to expect this kind of growth while still remaining profitable: therefore, Upstart deserves its premium valuation and investors seeking for good opportunities should certainly look at this company.
When the company started its activity in 2012, it was just a personal loan business. In the middle of 2020, the company expanded into Auto Lending. This market is probably the biggest growth catalyst for the company over the short to medium term, which is also why Upstart focuses so much on the topic in each earnings call. Just to give an idea of how much of an opportunity it is, this market is valued more than $720 billion, and Upstart wants to position itself as the leading player. Based upon the progress made over 2021, Upstart is projecting $1.5 billion in auto loan transactions on its platform this year. The difficult part of building out the loan business is getting the loan products into dealerships, but the company made it easier by acquiring Prodigy in early 2021, increasing dramatically the amount of dealerships made. We think the company is going in the right direction in this sense, and that's confirmed by the fact that Volkswagen, Europe's largest automaker, selected Upstart as its partner in its new "Mobile-First Auto Retail Online Platform". Also, Upstart is attempting to replicate its success from personal loans by building a seamless interface between automakers and consumers, hoping to spur more automakers and dealers to leverage Upstart's lending platform for auto loans.
Continuing its innovation, during the second half of 2021, Upstart started building out products for Mortgages, Small Businesses and Low-Income Personal Loans, raising consistently its Total Addressable Market (TAM). The TAM increased both because some segments expanded over time and because of newly created products.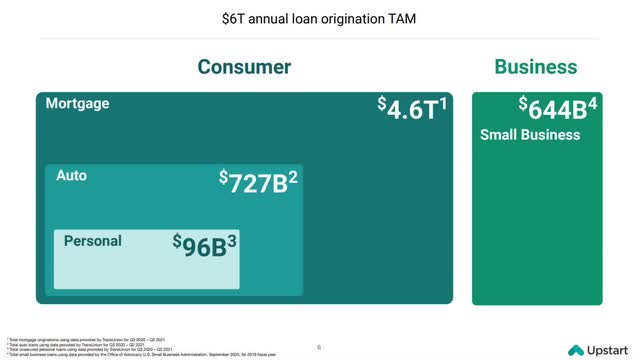 The entire business of Upstart is built on AI performing risk assessments, and risk assessments can be done on other things besides loans. Since the company is continuously expanding into new products to benefit from economy of scope, although the management hasn't officially spoken about it yet, it wouldn't be so difficult to think that the company might expand into markets such as insurance or crypto-loan products.
The market in which Upstart operates is extremely competitive and the major competitive issues the company faces are legacy banks and neobanks. The former could become a problem for Upstart is they started selling their self-developed credit risk models to Upstart's large potential customer base of small to medium sized banks and credit unions. The latter comes primarily from Sofi Technologies, the most powerful neobank, which is already in the loan market and is building direct relationship with customers.
However, Upstart has two important moats that make it able to deal with those threats: the data moat and the brand moat. The former, obviously, gives the company a greater competitive advantage and benefit from the network effect. Indeed, as Upstart's data sets get increasingly better, the company acquires new banking customers and loan originators. The more banks and credit unions that partner with Upstart, the more loan originations the company will complete, which will make it more and more difficult for any other company to replicate Upstart's data sets. The company knows that too, as it is doing everything it can to accelerate its data collection. For example, in Q3, the company announced its low-income personal loan product, which is designed for very small dollar loans to the underbaked customers. The product, while surely valuable, was made to collect even more data to accelerate the pace of learning by the company's AI models.
We talked about the brand moat, but it isn't as strong as the data one: indeed, the company is building a brand, and both banks and consumer are noticing Upstart's value propositions, but at the moment it's not strong yet. However, as competition for Upstart heats up, the brand moat will become more important.
It's worth keeping in mind, though, that the company might be severely affected both by rising interest rates and inflation, because these factors might push the credit cycle towards the next phase, and we don't know exactly how Upstart's algorithms will work over the full cycle. For example, we don't know how the company's customer might perform in a recession or in a stagflation condition. While the latest results from the company are beyond impressive, we need to remember that the company is still linked to the financial industry, with all the pros and cons it implies.
For the fiscal year 2022, the company projected a total revenue of around $1.4 billion, meaning that it expects to grow at around 65% compared to the prior year. However, at the latest earnings call, management lowered expectations to a total revenue of around $1.25 billion. That alone made the share price plummet, but that's not the most important factor from what we've seen in the first quarter results. Indeed, we saw Upstart's balance sheet loans rise from $260 million in the previous quarter to $605 million in 1Q22. Although the use of balance sheet does bring important risks for Upstart, we think that's just a temporary measure to respond to changing market conditions. However, looking at the falling prices of MBS and CLOs, and the rising interest rates, we have to consider in our valuation the implications that this may have on the company's future. Indeed, considering that Upstart's loans are subprime and most of their users wouldn't get access to loans otherwise, it's clear why on the news the company dropped by over 60% in market value. While most of the shareholders still think that's temporary, considering that we are already in a deep recession and that delinquency rates are rising in the United States, we see this as a major short-term concern for Upstart.
We consider the company extremely innovative and valuable, but in our opinion the valuation doesn't leave much space for capital appreciation and the risks ahead call for caution. Speculative investors might give this company a try, but it's worth assessing the general environment situation first. Furthermore, if the company will prove immune to the changing phases of the credit cycle, and will expand further in the auto loans market, we could expect it to beat these expectations and grow even more. As always, however, since we cannot estimate these factors for sure, we preferred to stay conservative in our valuation.
Business
Upstart leverages the power of AI to more accurately quantify the true risk of a loan. The company has AI models that target fee optimization, income fraud, acquisition targeting, loan stacking, prepayment prediction, identity fraud and time-delimited default prediction. Upstart's models incorporate more than 1,500 variables and benefit from a rapidly growing training dataset that, as of 2021, contains more than 21.6 million repayment events. Upstart's models are provided to bank partners within a consumer-facing cloud application that streamlines the end-to-end process of originating and servicing a loan. These models are trained by every Upstart-powered loan, and each bank partner benefits from participating in a shared AI lending platform.
Upstart's revenues are primarily earned in the form of two separate usage-based fees, which can be either dollar or percentage based depending on the contractual arrangement. The company charges its bank partners a referral fee each time it refers a borrower who obtains a loan. Separately, Upstart charges bank partners a platform fee each time they originate a loan using the company's platform. These fees are contracted for and charged separately, although they are combined for accounting purposes as they represent a single performance obligation. Upstart does not charge the borrowers on its platform any referral, platform or other similar fees for its loan matching services.
Also, Upstart charges the holder of the loan an ongoing annualized servicing fee based on the outstanding principal over the lifetime of the loan for ongoing servicing of the loan. In addition, Upstart earns a small portion of its revenue from interest income and gains generated through its securitization programs.
As we can see in the chart above, the company is making most of its money from the referral fees. In 2021, indeed, 62.15% of total revenue came from referral fees and 28.48% from platform: therefore, we can say that at the moment the business model of the company is simply being a loan broker with innovation capabilities.
Competitors
Consumer lending is a vast and competitive market, and the company competes in varying degrees with all other sources of unsecured consumer credit, including banks, non-bank lenders and other financial technology lending platforms. Because personal loans often serve as a replacement for credit cards, Upstart also competes with the convenience and ubiquity that credit cards represent.
On the bank partnership side, Upstart competes with a variety of technology companies that aim to help banks with the digital transformation of their business, particularly with respect to all-digital lending. This includes new products from legacy bank technology providers as well as newer companies focused entirely on lending software infrastructure for banks.
At the moment, Upstart does not have any relevant competitors for what they do, as other major banks have yet to announce whether they will develop loan systems good enough to cease the reliance on the FICO score. There are some neobanks competitors to Upstart, such as Avant, LendingClub, Rocket Loans and SoFi, but the latter is the only company in the sector that has both the scale and the competitive advantages to compete with Upstart. That's because SoFi has developed a platforms that allows customers to access almost any finance product in existence, and has already a large number of users. Also, the company faces competition from consumer lending companies such as MoneyLion and Synchronity Financials.
However, Upstart has some important competitive advantages that make them compete favorably, such as the constantly improving AI models, the automated and user-friendly loan application process, the cloud-native and multi-tenant architecture, their brand and the combination of technology and customer acquisition for bank partners.
Our valuation
We evaluated the company using our discounted cash flow model. The model relies on the past 5 years worth of financial statements data in order to estimate the future growth of the company. Each company is valuated in a slightly different way, and in this specific case we estimated the future free cash flows for the next 10 years by estimating line by line each of the three main financial statements. We made some assumptions in order to valuate the company:
The terminal growth rate is 3.50%;
The total shares outstanding are 80.06 million;
The effective tax rate over the forecast period will be, on average, 19.28%;
The United States 10-year treasury bond yield will reach 3.00% by the end of 2022;
The risk premium is 8.00%;
We used those assumptions to model the weighted average cost of capital, which resulted equal to 12.34%, and to estimate the future revenue growth and free cash flows. We estimated a fair value of $47.42, meaning that according to our valuation there is a possible upside in the stock price of 24.63%. Therefore, considering that at the time of writing the company sits at $38.13 per share, we give the company a "buy" rating. A lot of factors could influence the valuation, including but not limited to economic policies, markets development and real economic growth: therefore, we will update this valuation at the start of the next quarter.